Thermal Ablation with EchoLaser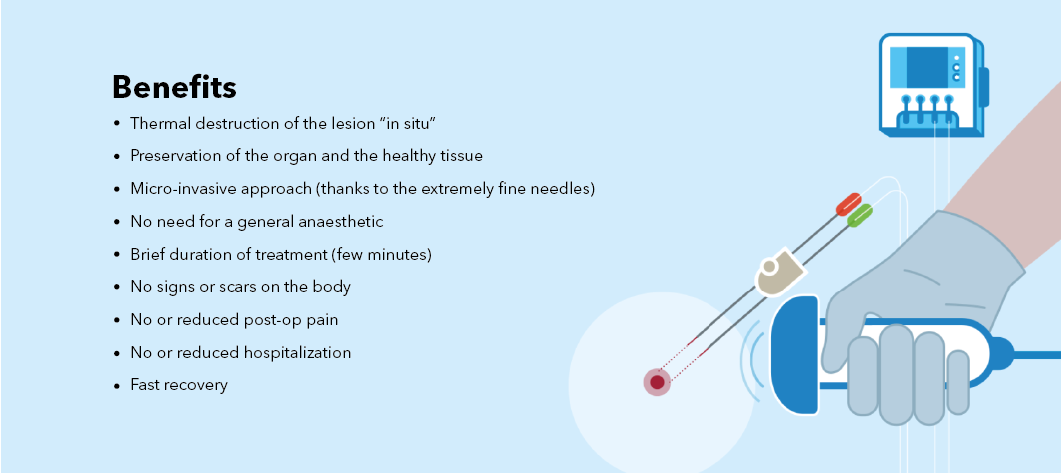 What is it?
ECHOLASER Thermal Ablation is a micro-invasive percutaneous procedure that uses the laser light transmitted by the applicators (optical fibres) for a few minutes. This heats the targeted tissue and causes irreversible "in situ" damage, therefore with no need to remove it.
This is all thanks to the combined action of an encrease of the local temperature and exposure time. The interaction of the laser radiation with a 1064nm wavelength (within the range of the therapeutic window) provided by ECHOLASER is excellent, offering low radiation absorption and excellent light penetration. The laser light is conveyed by the source to the tissues through extremely flexible quartz optical fibres with a small diameter (300 micron) and a flat tip, which are inserted percutaneously with fine needles (21 Gauge).
ECHOLASER therefore introduces the concept of micro-invasiveness thanks to the use of very small gauge applicators (<0.8mm), which makes this the best approach in non-traumatic terms. It also introduces the concept of multi-applicator approach offering the chance of treating lesions with a far wider size range.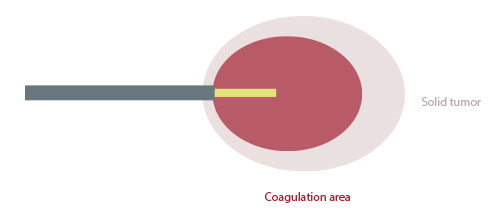 Through the flat-tipped fibres, the EchoLaser Thermal Ablation produces a coagulation area (area where the tissue is irreversibly damaged) with an ellipsoidal shape
Coagulation area produced by the EchoLaser Thermal Ablation
The EchoLaser Thermal Ablation can also be carried out with ultrasound guidance for real-time monitoring of the correct positioning of the laser light applicators and the actual extent of the damage caused to the tumour. The EchoLaser Thermal Ablation can be applied on both benign and malignant lesions in various organs (soft tissues).
The main applications of EchoLaser Thermal Ablation currently involve:
Benign Thyroid Nodules (BTN) (ModìLite) and enlarged prostate volume due to BPH (SoracteLite), with the aim of producing a reduction in volume of the tissue due to the Laser Induced CytoReduction (LICR) process;
Primary and secondary malignant liver lesions (PBLite) and localised low risk prostate and kidney cancer (SoracteLite) with the aim of tumour complete ablation with a sufficient safety margin.
Why EchoLaser Thermal Ablation?
The concept of EchoLaser Thermal Ablation is broader than more commonly used "Thermoablation". In case of malignant lesions (e.g. metastatic lymph nodes) ECHOLASER provides a highly precise approach, very useful on small lesions with uneven borders. On benign lesions (e.g. thyroid nodules or BPH), ECHOLASER induces a controlled cytoreduction whith a consequent improvement of local symptoms.
Why the Laser?
The intrinsic features of Laser (coherence, collimation and monochromaticity) and the penetration method of the laser into the tissues (depending on the wavelength) make the EchoLaser Thermal Ablation a successful choice.
Indeed:
The laser is able to deliver energy in a precise and confined manner;
The laser produces predictable, precise and controlled thermal damage;
There is minimum laser energy dispertion in tissues other than the ablation target (which allows for the treatment of selected volumes in critical zones);
Laser energy is well tolerated by the body (with a very low risk of complications).
Multi-fibre approach that highlights the synergistic action of coalescence allowing for large coagulation area